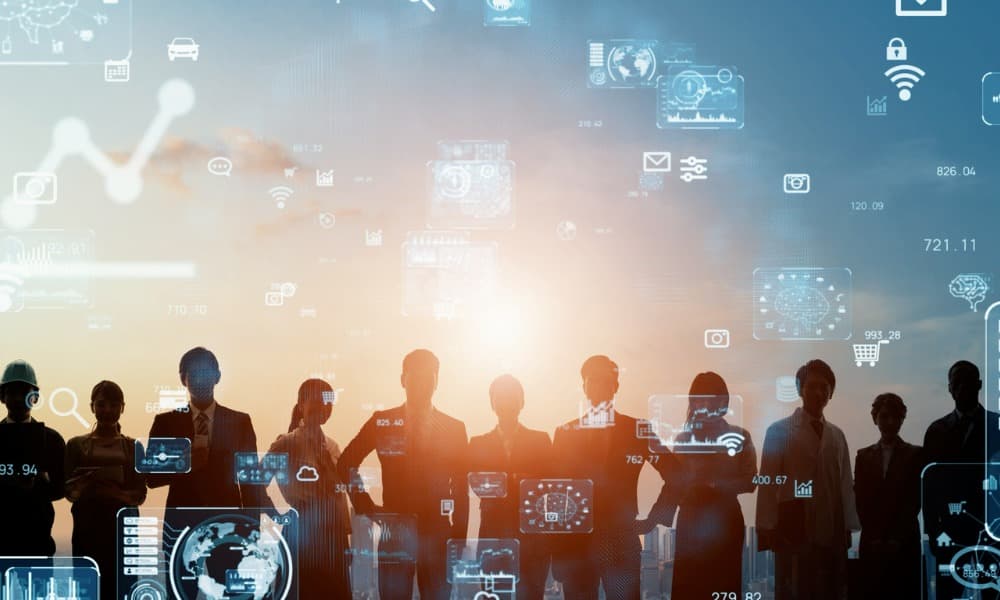 This small but mighty team is enabling change across the Department of the Air Force (DAF) digital landscape
Key takeaways:
-The Digital Transformation Office (DTO) was created to cultivate a digitally-empowered community that will accelerate change across the DAF.
-The team is focused on analyzing challenges, strengthening integration, and improving access to tools, processes, and knowledge that will help Airmen and Guardians make smart decisions faster.
-The team is continuing to grow, and is actively recruiting for a number of roles.
To maintain dominance, the DAF knows it has to modernize the way Airmen and Guardians work. But this isn't a simple transition—it requires specific tools, training, architecture, standards, and a broader culture shift. That's where the DTO comes in. We're looking beyond mission sets, breaking down barriers, and enabling digital innovators by connecting them with the information, resources, and support they need to outpace our adversaries.
DTO origins
In 2021, Air Force Materiel Command created the DTO to implement digital transformation initiatives across the DAF. At launch, DTO Chief Kyle Hurst noted, "This office is the first organization that will stand up to address enterprise-wide digital needs. Though the office sits at AFMC, it will have a perspective for the entire Department of the Air Force acquisition community, encompassing activities from research and development to fielding, sustainment, and beyond—the full cradle-to-grave of lifecycle management."
Despite having some of the best technologies, tools, and operations of any civilian or military organization, a lot of work remains for the Air Force and Space Force to optimize efficiency.
Meet the team
Here are the talented individuals tackling obstacles to the DAF's digital transformation.
J. Kyle Hurst, DAF DTO Chief.
Superpower: Fearless Leadership
Having worked in the Air Force his entire career—in program offices, flight tests, and many acquisition-focused Pentagon positions—Kyle is now working to advance the digital transformation of the DAF sustainment and acquisition enterprise. He leads stakeholder engagement, strategic communication, and the Digital Campaign governance and battle rhythm. Kyle's first priority is building relationships and empowering his colleagues to work smarter and faster by looking past the "what we always do" mentality to what actually makes sense.
Dr. Steven Turek, DAF DTO Technical Advisor
Superpower: Razor-Sharp Knowledge
Before his role at the DTO, Steve worked at the Pentagon, the Air Force Research Lab (AFRL), and in industry. He received his M.S. and Ph.D. from the University of Cincinnati with theses addressing computational metrology and graph-based methods for Design for Assembly (DFA) analysis in early design. He has longstanding expertise in R&D and acquisition efforts focused on digital thread/twin, advanced manufacturing, and Computer Aided Design/Manufacturing (CAD/CAM). He currently heads up strategic prioritization, Digital Maturity Assessment processes, and Digital Airworthiness.
Vince "Swath" Pecoraro, DAF DTO Lead Program Manager
Superpower: Unbridled Creativity
Vince's work as a contracting officer on some of the largest and most innovative acquisitions in Air Force history makes him an ideal driver for digital transformation. He's held more acquisition warrants at one time than anyone else in the Air Force, which gives him the most obligation authority. Vince believes in thinking differently and places the highest value on relationships built from shared experiences.
Ryan McNeal, DAF DTO Digital Education, and Training Lead
Superpower: Problem-Solving Prowess
Ryan's zeal and experience have taken him through organic software development and sustainment in support of multiple electronic warfare systems, technical leadership within Armament Directorate program offices, electromagnetic threat modeling and simulation, AFRL projects, and digital leadership in the Agile Combat Support directorate. He's also researched small UAV-delivered munition mitigation and missile defense. Ryan's current responsibilities include shaping the DTO's education and training initiatives and leading efforts to improve the cyber approval process.
Christen Walden, DAF DTO Digital Twin/Thread Lead
Superpower: Unbreakable Fortitude
Christen has led digital engineering teams across multiple acquisition programs in the Bomber, Fighter, and ISR/SOF portfolios. Her experience in high-fidelity modeling tools has led her to publish research in the modeling of thin layer coatings to advance understanding of material responses to high-stress atmospheric re-entry. She currently manages program outreach and tool access assistance, supports and coordinates with the Logistics IT community, and engages industry, all while driving culture change. She's passionate about leveraging modern tools and collaboration platforms to execute the mission.
Keith Lucas, DAF DTO Systems Modeler SME
Superpower: Trailblazing Spirit
Keith has worked at the Air Force Research Lab (AFRL) and the Air Force Nuclear Weapons Center (AFNWC), where he was instrumental in building the modeling and infrastructure approach of Ground Based Strategic Deterrence, one of the most digital-forward programs in the Air Force. He has an extensive background in modeling complex systems and is actively pursuing a Systems Engineering Master's Degree with a modeling focus. Keith currently oversees modeling best practices and methodologies, modeling style guides, program outreach, and modeling tool integration approaches.
Noah "Odie" Demerly, DAF DTO Process Automation Lead
Superpower: Hypersonic Hustle
Noah has worked as an Air Force aircraft maintenance officer, in program offices, and in industry, as well as in commercial engine applications, instrumentation, aircraft maintenance, airworthiness, and safety. For the DTO's Digital Airworthiness team, he takes on digital transformation in the certification and acquisition processes, breaks paradigms, and strives to improve how the Air Force works. Noah focuses on encouraging others, staying engaged, cultivating positive relationships, and getting to the heart of the "why" in everything he does.
Elizabeth Loiacono, DAF DTO Digital Engineer
Superpower: Shapeshifting Resourcefulness
Elizabeth brings to the DTO her deep experience in Digital Manufacturing and implementing digital processes for the sustainment and acquisition Community. She's passionate about delivering digital engineering capabilities across the acquisition and sustainment enterprise to promote early analytical consideration of production and supply chain impacts, and to reduce data handling costs for AF programs. Previously, she served as the lead of the Digital Enterprise program for the Manufacturing and Industrial Technologies Division out of AFRL.
Collin Cutler, DAF DTO Digital Engineer
Superpower: Intrepid Exploration
Collin joined the DTO as a digital engineer through the Palace Acquire Program in late 2022. He's eager to deepen his knowledge of digital transformation as he pursues his graduate school degree. Collin currently supports many DTO team projects, motivated by a strong desire to learn.
With support from this talented team, Air Force and Space Force will be better positioned to:
Rely on authoritative data sources
Access the tools they need to make smart decisions faster
Redesign and automate cumbersome, manual processes
Collaborate internally and with industry in peer-to-peer relationships
Streamline operations across departments and functions
Recent momentum
Earlier this year, we convened more than 200 Airmen and Guardians at the first-ever Digital Drivers' Forum, a virtual workshop designed to connect the DAF digital transformation community, surface recent accomplishments, and empower the workforce to have an even greater impact in the coming months. We're now assessing projects that were proposed during the workshop and determining prioritization.
In parallel, we're continuing to advance bold initiatives like Digital Tools for All, which aims to provide enterprise-wide software access. To track our activities, join the community here, follow us on LinkedIn, and check out our News updates.
Let's collaborate
We know progress toward digital transformation is happening across the organization every day, and we want to hear about it! Fill out our quick form to tell us how you or a colleague are driving digital strategies forward. We can help elevate your efforts and lend support through the DAF Digital Agents of Change campaign.
Join the team
Curious about opportunities to be a part of the DTO? Reach out to us via this engagement form and a member of the team will be in touch with you.