Discover your potential as a facilitator through comprehensive training offered by the DAF Digital Transformation Office.
We're proud to introduce the DAF Digital Facilitators Academy. This pioneering program includes interactive workshops, practical exercises, and one-on-one coaching designed to equip Airmen and Guardians with the critical virtual facilitation skills necessary to meet the challenges of the digital era. Elevate your leadership skills by becoming an influential and impactful facilitator. 
PRIORITIZING A DIGITAL-FIRST CULTURE

The Digital Transformation Office (DTO) is the first organization to lead a unified digital transformation across the Department of the Air Force by empowering a digital-first workforce. Digital collaboration is a crucial component for removing roadblocks and accelerating change. Therefore, the Department of the Air Force is committed to instilling a digital-first culture to encourage real-time collaboration at speed. The Digital Facilitators Academy equips participants with the digital skills necessary to drive progress and eliminate unnecessary silos.
Poorly managed meetings waste a significant amount of time and money across all sectors. New research shows that 70% of meetings keep employees from doing productive work. With the rise of virtual meetings and workshops, mastering the art of guiding successful online collaboration is essential. The Digital Facilitators Academy helps build a culture of facilitation within the DAF, boosting teamwork while achieving results.
EMPOWERING THE NEXT GENERATION OF LEADERS
The series recently kicked off with the first cohort of PALACE Acquire (PAQ) and Premier College Intern Program (PCIPS) in Part One: Facilitation 101. During the 2-hour session, participants were introduced to the art of digital facilitation and the barriers that often hinder meaningful progress. Throughout the workshop, collaborative breakout sessions allowed attendees to experience, in real-time, how to engage and influence an audience while thwarting unnecessary derailment and passive participation.

PARTICIPANT TAKEAWAYS
"Following the pandemic, these skills are even more important."
"This was the most interactive and useful training workshop I've ever attended."
"I appreciated the small group and the structure of the class."
"This session really helped me focus."
"Loved hearing all the actionable tips and tricks."
SCORE POINTS WHILE ADVANCING YOUR SKILLS
Learn the art of facilitation and master the skills necessary to boost your career potential, break down silos, and encourage the collaboration essential to expedite transformation. The Digital Facilitators Academy offers attendees a Continuous Learning Education (CLE) point and a new Digital Badge for completion of the entire program.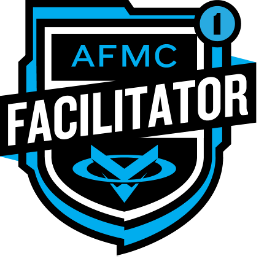 BE AMONG THE FIRST WITH PRIORITY ACCESS
Are you interested in finding out about upcoming Digital Facilitators Academy events? Fill out this brief questionnaire, and you'll be notified about the next opportunity to join a growing early-access network of forward-thinking facilitators driving innovation and collaboration.
WORKSHOP SERIES LINEUP
Facilitation 101: Learn how to unlock the potential of transformative collaboration by mastering the ability to guide team discussions efficiently, increase participant engagement, and navigate potential distractions to keep focus on objectives.
Agenda Design 101: Enter the world of strategic organization by discovering how to build compelling agendas that shepherd your meetings toward desired outcomes, keeping team member engagement high and discussions productive.
Storytelling with Data 101: Delve into the power of data with storytelling by learning how to illuminate patterns and trends hidden in complex data, transforming them into clear, influential narratives that inform decision-making and inspire action.
To learn more about the DAF Digital Facilitators Academy, click here.